 A bulldog drools in a car; a musical montage featuring men getting waxed; siblings argue. Clips of a confused dog, kids saying funny things, and a musical cat montage; videos from Iowa. A man has a run-in with a squirrel hiding in his chimney; a woman faints at a surprise party being… Dogs that can talk; a man scares neighbors with a rubber snake; friends rewire a man's car so it… A woman rides a roller coaster; trick-or-treat mishaps; a boy prays that his mother makes better… Trick or treat mishaps; pets in costumes. A woman passes out after riding a roller coaster; game players must swallow a tablespoon of… A turkey catches fire in the oven; golfers chase a runaway cart; a bear gets too close to a car; a… Christmas morning pranks; Santa takes a fall down the stairs. A wedding proposal does not go as planned; a man tries to catch a runaway snowmobile; bridesmaids…
A man scares his wife by putting a mouse in a trash can; trick basketball shots; a curious zebra. The canine stars of "Beverly Hills Chihuahua 2" visit Tom; a Chihuahua shows a German shepherd who…
A boy dumps cold water on his sunbathing father; kids saying funny things; a football player runs…
A 4-year-old with gubernatorial aspirations; a boy is annoyed with his crying cousins; a girl is…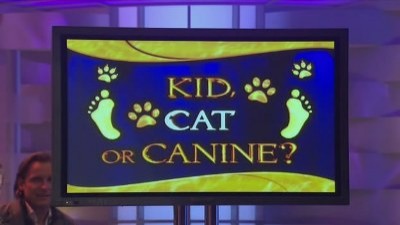 A kangaroo goes after a woman in an animal park; workplace mishaps; a candle disrupts a Christmas…
girl gets a scooter for Christmas; golf cart mishaps; a kid eats a ball bearing; a baby bites his…
Cheerleading gone wrong; a girl pulls out her sister's tooth by tying it to a baseball; men bite…
A Thanksgiving turkey goes up in flames during a kitchen mishap; a boy thinks George Washington on…
Snow mishaps; funny kids; a dog runs onto a football field during a game.
A child makes a mess dyeing Easter eggs; primate music montage. A marriage proposal goes wrong; a girl sneaks up on her father with a hose.
A teenager learns she used her dog's rectal thermometer; a man has his chest waxed; a kid loses his… Beginning the countdown to this year's grand-prize winner. This year's grand-prize winner is revealed. Tom Bergeron