8.39

Call the Midwife is a drama series adapted for television by Heidi Thomas from Jennifer Worth's best selling memoir of the same name. The series is a colourful look at the world of midwifery and family life in 1950s East End London. Jenny joins an eccentric community of nursing nuns having just qualified.
Returning series


TV series created in 2012 by Heidi Thomas.
The show consists of 7 seasons and 54 episodes.
As the nurses and midwives of Nonnatus House prepare to celebrate Sister Monica Joan's birthday,…
Barbara's condition is not improving and she is kept in isolation at the hospital, leaving her…
Barbara helps a pregnant mother-of-two whose husband has recently died, and is on hand to give her…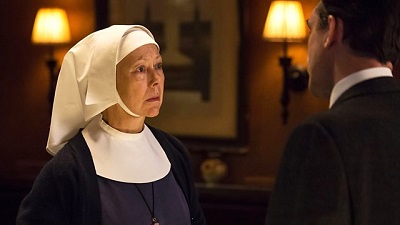 Dr Turner is horrified to realise he may be partly to blame as the cause of the recent rise in…
Jenny is assigned to first-time mother Jeanette, who requires frequent visits during a protracted…
Jenny has an eventful few days, starting with a patient who as well as having herself to worry…
Trailer
Seasons
Posters
Similar TV Shows