7.49

The six-person crew of a derelict spaceship awakens from stasis in the farthest reaches of space. Their memories wiped clean, they have no recollection of who they are or how they got on board. The only clue to their identities is a cargo bay full of weaponry and a destination: a remote mining colony that is about to become a war zone. With no idea whose side they are on, they face a deadly decision. Will these amnesiacs turn their backs on history, or will their pasts catch up with them? The Raza's crew attempt to unite Ferrous' enemies and put an end to the corporate war before the… Ryo takes a hostage to trade for the Blink Drive, but his former crew are not his only opponents. One of the Android's newly discovered memories leads the crew to a suspicious Dwarf Star facility…
When the Blink Drive self activates during a diagnostic, the Raza and its crew are transported…
Four's loyalty is put to the test when he attempts to reclaim the throne of Ishida.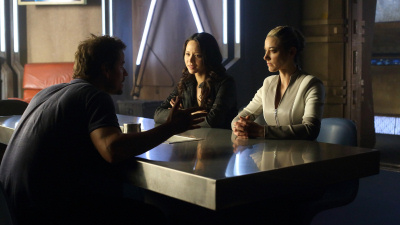 Unbeknownst to the rest of the crew THREE has been trapped in a time loop, reliving the same day…
Trailer
Seasons
Posters
Similar TV Shows