In the land of Fiore, magic is everywhere. Sorcerers are like skilled tradesmen who band together in "guilds" and take on paying assignments for non-magic wielders, like hunting monsters, retrieving lost items or running odd errands. Lucy is an aspiring wizard who wants to hook up with the coolest guild around, Fairy Tail. One day, she meets a red-headed boy who saves her from a unscrupulous wizard, and before she knows it, she's introduced to the wild and wacky band of wizards of Fairy Tail and begins the adventure of a lifetime.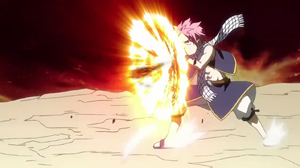 Natsu Dragneel, along with his cat named Happy, has traveled to the town of Hargeon in search of a…
Natsu, Happy, and Lucy go in search of a missing Fairy Tail wizard in the mountains from which he…
Natsu and Happy team up with Lucy and they accept a job that has a strange and seemingly simple…
Lucy, Natsu and Happy retrieve the book from the mansion, but Lucy cannot bring herself to destroy…
Natsu and Lucy start looking for a new job to take, but just then Erza, the strongest female member…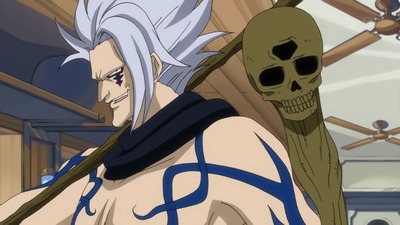 Natsu, Erza, Lucy, Happy, and Gray follow the Eisenwald Guild to try and stop them from using the…
Natsu, Erza, Gray, Lucy and Happy are trapped in the railroad station by an impenetrable wind…
Natsu caught up to Erigor after breaking through the magic wind wall, but Natsu's flames aren't…
Natsu and the others get lost in the depths of Clover Canyon, a great natural labyrinth, on the way…
What a battle! Natsu vs. Erza!! The flames of a Dragon Slayer vs. the armored Fairy Queen! Fairy…
S class quests... Requests so dangerous only wizards that the master gives permission to go on…
Natsu, Lucy, Gray, and Happy uncover a plot to release a demon that wrecked havoc years ago and was…
In order to protect the village, Natsu faces off against a new foe, Yuka, who is confident that…
Erza has arrived on Galuna Island and her only reason to be there is to return everyone to Fairy…
Gray flashes back to when he first met his teacher and how she changed his life.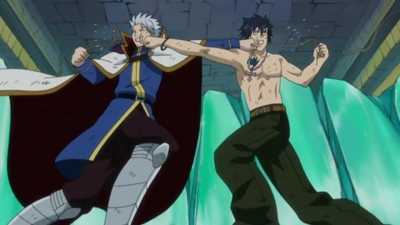 Gray is about to use the Iced Shell magic on Lyon to permanently imprison him in ice like Deliora…
S01E17 : Burst
8.19/10

(aired on 02/08/2010)The demon, Deliora, has been released! Natsu, Erza, Gray, and Lucy try to stop the demon but it…
Erza recruits Natsu to help her "destroy the moon" as Lucy and Gray look on with disbelief with the…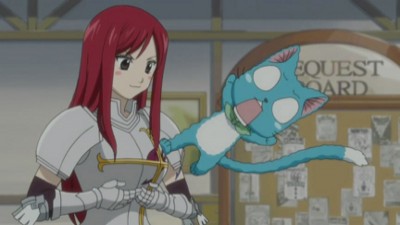 Natsu finds a strange looking request on the job board and when he says the words on the paper, he,…
This episode takes us back to when Happy and Natsu first met and when Lisanna was still apart of…
Fairy Tail is attacked by Phantom Lord and at first it is just their building, but when some of the…
Gajeel starts fighting and ends up in a fight with Natsu. Makarov fights with Phantom Lord Wizard,…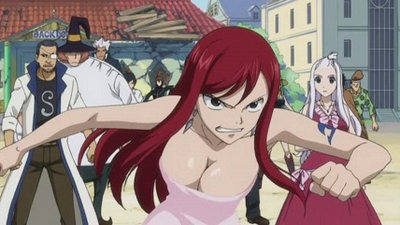 Fairy Tail cures its wounds, whilst Phantom Lord appears in Magnolia. Erza is defeated by one of…
Natsu, Gray, and Elfman have infiltrated Phantom Lord's headquarters. Although Natsu manages to…
Elfman crushes Sol of the Land, one of the Element 4! Afterwards, the Phantom Mk II seems to slow…
Natsu battles against the strongest member of the Element 4, Aria. Just when things are looking…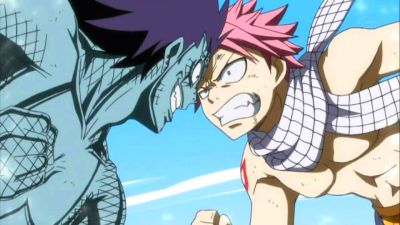 Natsu finally faces off against Gajeel in an all out battle.
Makarov regains his powers and goes to aid in the fight against Phantom. He and Jose face off in a…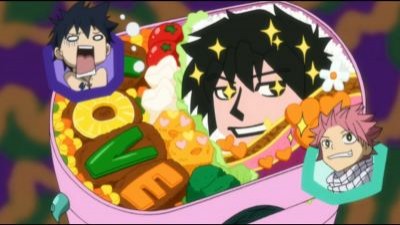 The fighting ends, with the help of Fairy Law; after the battle between Natsu and Gajeel, they find…
There seems to be a problem with the Master. Is his age finally catching up to him?
Loki has been acting weird, especially around Lucy. He broke up with all his girlfriends and seems…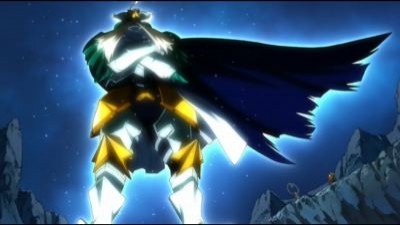 Continuing from the previous cliffhanger, Loki is found out to be celestial spirit. He's trapped on…
While on vacation at the Kingdom's best resort, Erza seems to be haunted by glimpses from her past.…
It is the start of a big battle where Erza's past starts to unfold and the darkness of the tower of…
This episode takes back to "why" Erza gained her mage skills and what happened to Jellal in the past
This episode is basically a follow on of what happens in the rebellion and the revolt against…
The revolt continues; the three enemies prove to be excellent fighters. Lucy is forced to fight…
Convinced by Siegrain's arguments the magic council prepare to fire the lethal weapon Etherion on…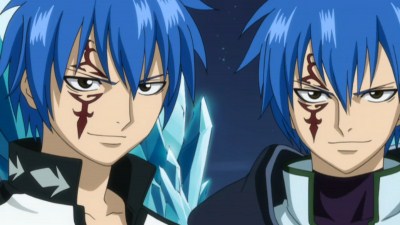 We will now find what is Jellal's plans and the real tower of heaven looks like. Natsu began to…
Natsu fights Jellal. Natsu is hardly able to scratch Jellal, having regained his true magical…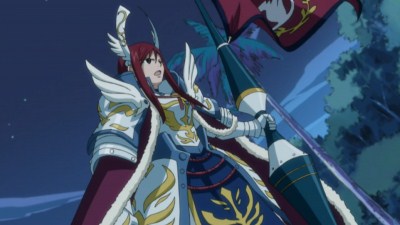 S01E41 : Home
8.51/10

(aired on 08/09/2010)Erza is in the sky floating above what looks like her funeral, as everyone is crying and Makarov is…
Short on money, Lucy decides to compete in the Miss Fairy Contest to win the 500 000 jewel prize,…
The Battle of Fairy Tail moves into high gear, and Fairy Tail members are falling left and right,…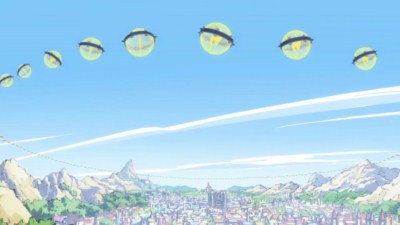 Erza defeats Evergreen, freeing everyone under the stone spell. Since Laxus has lost his hostages,…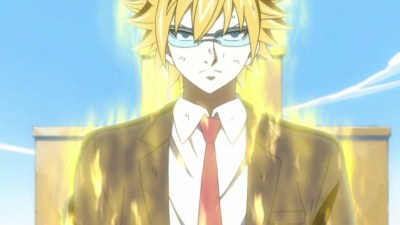 Lucy and Loke defeat Bixlow while Cana and Juvia are forced to fight one another because of Fried's…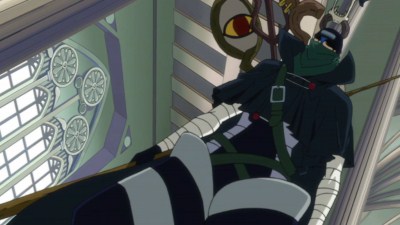 With all of the Raijinshu defeated, only Laxus remains. Mystogan arrives and holds his own against…
With Erza's magical power is running out, the remaining members of Fairy Tail step in to help…
After casting Fairy Law, Laxus notices that nobody has been killed, as he in fact, never thought of…