Family Guy's seventh season first aired on the Fox network in twenty-one episodes from September 28, 2008 to May 17, 2009 before being released as two DVD box sets and syndicated. The animated television series follows the dysfunctional Griffin family, who reside in the town of Quahog. The show features the voices of series creator Seth MacFarlane, Alex Borstein, Seth Green, and Mila Kunis in the roles of the Griffin family. The executive producers for the seventh season were David Zuckerman, MacFarlane, Danny Smith, David Goodman and Chris Sheridan. The season included hold-over episodes from the sixth season, which was cut short due to the 2007–2008 Writers Guild of America strike. It received a mixed reception from critics, the more-negative reviews criticizing the overuse of cutaways and the more positive praising its story-based episodes. The seventh season contains some of the series' most acclaimed episodes and controversial episodes like "420", which caused the Venezuelan government to ban the show from its networks. It includes 16 episodes, from the first episode to the season finale, "Peter's Progress". The seventh season was nominated for a Primetime Emmy Award for Outstanding Comedy Series, making Family Guy the first animated series to be nominated in this category since The Flintstones in 1961.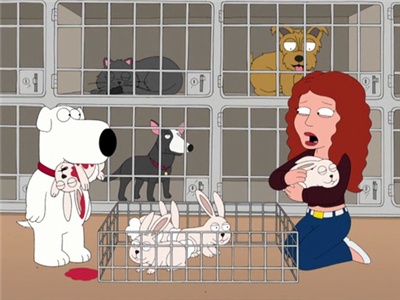 Dissatisfied with his current love life, Brian decides to slow things down when he meets the girl…
When Peter re-discovers his love for the painfully annoying yet seductively catchy tune "Surfin'…
Mort Goldman accidentally steps into Stewie's time machine and goes back in time to 1939 Poland,…
Peter gets a lasting supply of gasoline for the year, so the family decides to use it to take a…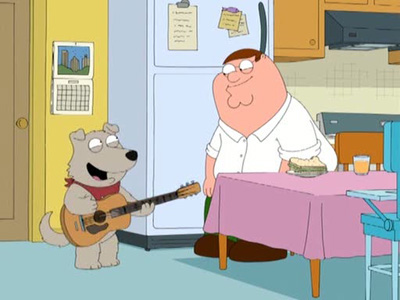 Eight-year-old Brian (who is 56 in dog years) seems to have lost a step or two, so Peter gets a new…
Peter's boss Angela sends him back to the third grade so that he can qualify for a work promotion.…
After being pregnant for seven years, Bonnie finally gives birth to a beautiful baby girl named…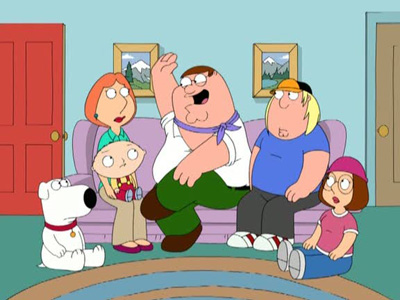 Peter is injected with the gay gene as part of a scientific experiment to determine whether or not…
Peter finds an old winning raffle ticket from 1989 that entitles him a golf outing with O.J.…
Lois gets a job working for FOX News and has to do a report on a liberal filmmaker. However, she…
Meg becomes extremely religious, and tries to convert Brian from Atheism. Meanwhile, after the…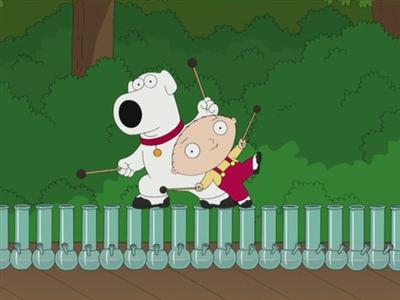 S07E12 : 420
7.77/10

(aired on 04/19/2009)Brian and Stewie attempt to rally Quahog to try and legalize marijuana.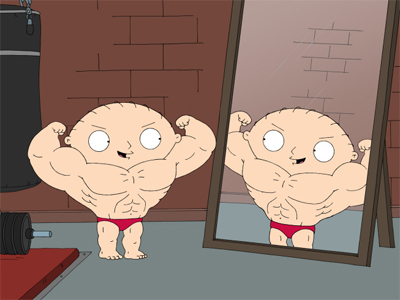 Stewie starts going to the gym with Peter after he gets beaten up by Joe's baby daughter Susie, but…
Brian is devastated to learn that his ex-girlfriend Jillian is getting married until he meets The…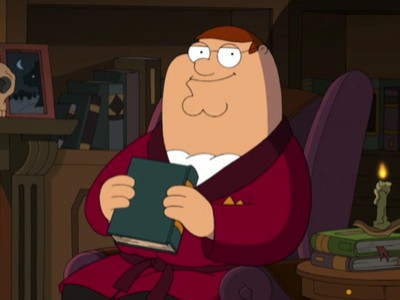 Peter imagines his friends and family in three of Stephen King's most famous works. Stand by Me…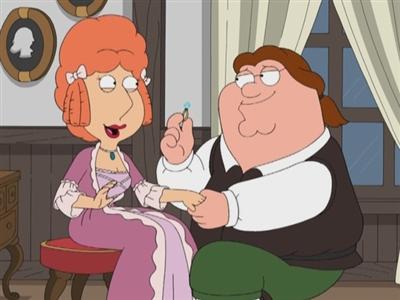 Peter learns from a psychic through a palm reading that he had a fascinating past life in the 17th…