Family Guy's ninth season first aired on the Fox network in eighteen episodes from September 26, 2010 to May 22, 2011 before being released as two DVD box sets and in syndication. Family Guy follows the dysfunctional Griffin family—father Peter, mother Lois, daughter Meg, son Chris, baby Stewie and dog Brian, all of whom reside in their hometown of Quahog. The ninth season, which premiered with the episode "And Then There Were Fewer" and ended with "It's a Trap!", was executive produced by Chris Sheridan, David Goodman, Danny Smith, Mark Hentemann, Steve Callaghan and series creator Seth MacFarlane. The season's showrunners were Hentemann and Callaghan. The season received a mixed reception from critics, who called it "a mixture of laugh out loud gags, groan inducing puns, and astonishing 'I can't believe they got away with that' statements." Season nine contains some of the series' most acclaimed episodes, including "And Then There Were Fewer", "Road to the North Pole" and "New Kidney in Town", as well as some of the most controversial episodes, including "And I'm Joyce Kinney", "Friends of Peter G.", "The Hand That Rocks the Wheelchair" and "Road to the North Pole". This season marks the first time Family Guy aired in 720p high-definition and widescreen with a remastered title sequence. It was nominated for a Primetime Emmy Award for Outstanding Music Composition for a Series, Outstanding Original Music and Lyrics and Outstanding Sound Mixing for a Comedy or Drama Series and Animation.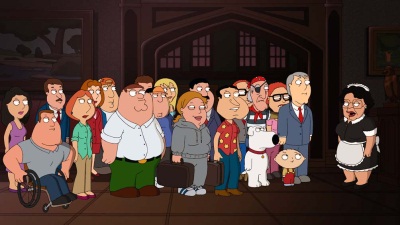 In this murder mystery special, The Griffins as well as all the other major characters become…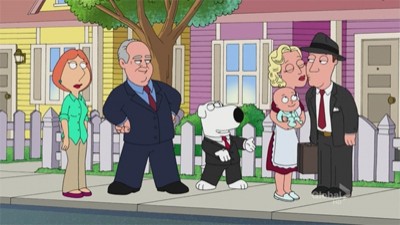 When Brian learns that Rush Limbaugh is going to be at the Quahog Mall for a book-signing, he…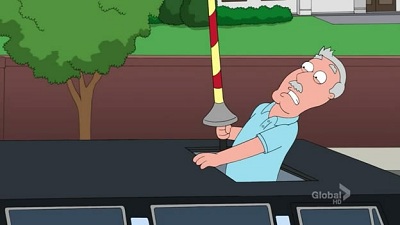 After Peter catches Carter having an affair, he is forced into keeping a secret. But when Peter…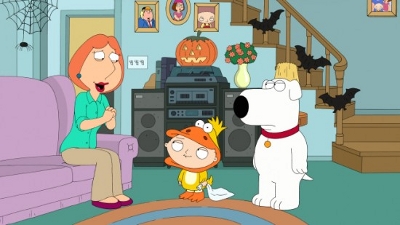 Peter and Joe team up to execute a series of painful and humiliating Halloween pranks on…
When Peter receives tickets to a boxing match as a birthday gift, he volunteers Lois to compete. To…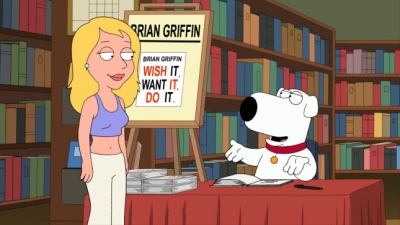 Feeling discouraged with the progress of his writing career, Brian decides to throw in the towel…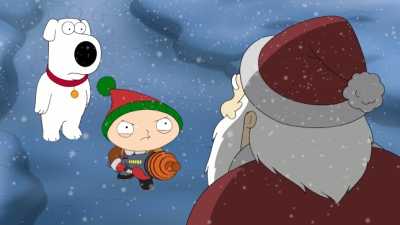 Stewie's favorite thing after his teddy bear, Rupert, is Christmas. So when he hears that Santa is…
Peter needs a new kidney after his energy-drink addiction causes renal failure. Meanwhile, Chris is…
Lois is forced to defend her reputation after the new local news anchor (Christine Lakin) does a…
Brian and Peter are required to attend a 12-step program to deal with their drinking problems;…
On the search to find a new hobby, Chris meets a puppeteer named Franz, an old friend of…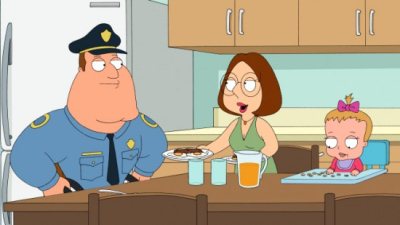 Meg offers to check on Joe while Bonnie is out of town; Stewie tries to become more evil.
Chris and Meg think their parents have it easy, but Peter and Lois beg to differ, so in order to…
When the local dry cleaner loses Peter's favorite white shirt, he goes ballistic. Meanwhile, Brian…
When Mayor West marries Lois' sister, Carol (guest voice Hagerty), they move into the Griffin's…
Stewie and Brian go back in time to stop Bertram from killing Leonardo da Vinci
Bonnie and Lois take a little trip to Paris, but Bonnie crosses the line in the City of…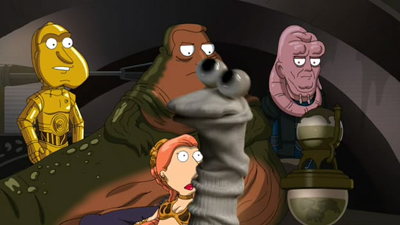 In this spectacular and offensively uproarious final chapter, Luke Skywalker (Chris) and Princess…