Family Guy's tenth season debuted on the Fox network on September 25, 2011. The series follows the Griffin family, a dysfunctional family consisting of father Peter, mother Lois, daughter Meg, son Chris, baby Stewie and the family dog Brian, who reside in their hometown of Quahog. The executive producers for the tenth production season are Seth MacFarlane, Chris Sheridan, Danny Smith, Mark Hentemann, Steve Callaghan, Alec Sulkin, and Wellesley Wild. The showrunners are Hentemann and Callaghan. During this season, Peter becomes friends with Ryan Reynolds, the Griffins win the lottery, Meg falls in love with an Amish boy as Peter goes to war with his family, Stewie starts driving Brian's car and accidentally crashes it, Meg dates Quagmire on her 18th birthday, Chris dates a girl who looks like Lois, Quagmire asks Peter and Joe to help him kill his sister's violently abusive boyfriend, Peter befriends a dolphin, Kevin Swanson surprisingly returns to Quahog on Thanksgiving, Lois kidnaps Stewie's sick friend, Brian gets a blind girlfriend who hates dogs, James Woods makes a shocking return after being killed last season after Peter becomes an agent to Tom Tucker, and Brian and Stewie travel back in time to the premiere Family Guy episode.
Peter blows his savings on lottery tickets and the family writes it off as one of his usual…
While the Griffins are housebound during a hurricane, Brian ingests psychedelic mushrooms. He sees…
When Quagmire recovers from his "accident" he learns that his sister Brenda needs his help.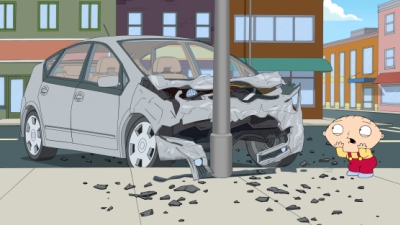 Stewie tries to be a big boy and steals Brian's car for a joy ride but lands in a bit of trouble.…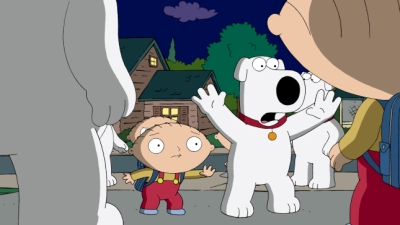 Brian and Stewie travel back in time to the pilot episode of FAMILY GUY to change history, and then…
Lois cooks a big Thanksgiving meal and invites the whole crew over for dinner, and Joe is shocked…
On the return from an adventurous day at an amusement park, the Griffins' car breaks down in Amish…
Peter and the guys take a stand against their wives and flee to the Deep South on a road trip. On…
It's winter in Quahog, and Lois' parents take Stewie away on a trip. But when Carter falls asleep…
When Meg finally turns 18, Quagmire seizes the opportunity to pursue his next romantic conquest. As…
Brian starts dating a blind girl and things get a little dicey when she divulges that she hates…
When Stewie's new best friend falls ill, Lois takes him to the hospital where she finds out he has…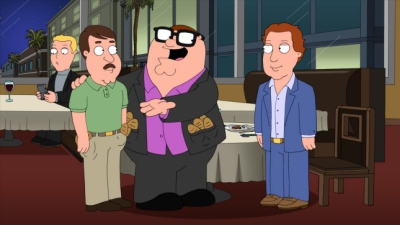 When Peter decides to become a famous actor, he becomes Tom Tucker's agent as his first step toward…
After Peter half-heartedly makes a promise to a helpful dolphin (Ricky Gervais), the dolphin moves…
Overwhelmed with financial troubles, Mort asks Peter and Quagmire to help him save his pharmacy.…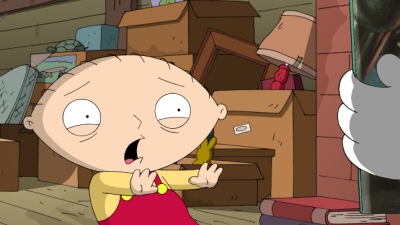 Peter and Chris go to fat camp where they cross paths with a serial killer who targets overweight…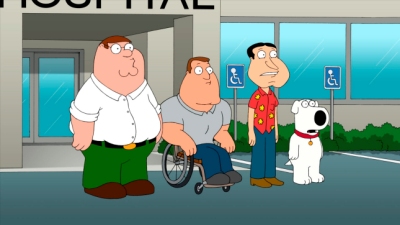 After a night out, Peter, Joe, Brian and Quagmire awake in a hospital and discover that they don't…
When Peter's favorite kiddie show gets canceled, he decides to create and star in his own.…
Stewie meets a female version of himself and falls in love; Peter and Quagmire step up their…
Meg's exciting European adventure comes to a halt when she is kidnapped; Stewie and Brian embark on…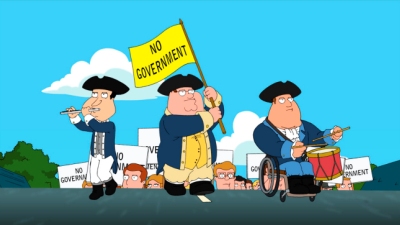 When city hall threatens to close Peter's business, he joins the Tea Party and campaigns to shut…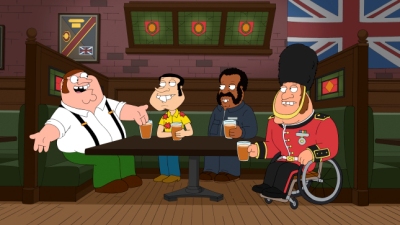 One mini-episode introduces a British version of the Griffins. A comedian takes over Quahog in…
Peter encourages Joe to have a one-night stand with his attractive new partner in order to even the…