Family Guy's twelfth season began airing on Fox on September 29, 2013. The series follows the Griffin family, a dysfunctional family consisting of father Peter, mother Lois, daughter Meg, son Chris, baby Stewie and the family dog Brian, who reside in their hometown of Quahog. During this season, the Griffins will travel to Italy; Peter will get a twin; Quagmire and Peter will form a folk band; and as confirmed by series creator Seth MacFarlane, Cleveland will move back to Quahog along with his family, since The Cleveland Show was cancelled. It has also been confirmed by MacFarlane that a member of the Griffin family will die in this season, to be replaced by an upcoming member of the family. Planned guest stars for the season include: Conan O'Brien, Jeff Daniels, Michelle Dockery, Tony Sirico, Yvette Nicole Brown, Gary Cole, Cesar Milan, Lauren Bacall, Ashton Kutcher, Jon Cryer, Liam Neeson, Bryan Cranston, Billie Joe Armstrong, Peter Dinklage, and Adam Levine.
Word that Peter believes a restaurant placemat is a treasure map pits the citizens of Quahog…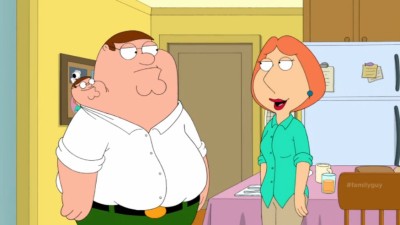 When everyone seems to love the vestigial twin that is growing out of Peter's neck better than him,…
Quagmire is excited to meet a woman with a sex drive equal to his own, until she kidnaps him to…
Meg spills her lunch on an unstable new classmate; Peter harasses Brian in the nude.
Peter destroys the family's passports while they're in Italy, forcing them to deal with immigration…
When Stewie and Brian travel to the 17th century and come close to altering the course of history,…
Fame gets to Peter's head when he and Quagmire form a singing/songwriting team.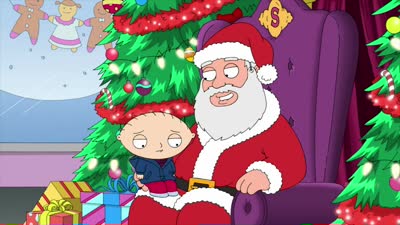 Peter fills Lois' dad with holiday spirit; Stewie tries to get the only thing he wants for…
Peter asks Quagmire and Joe to help him get his mojo back.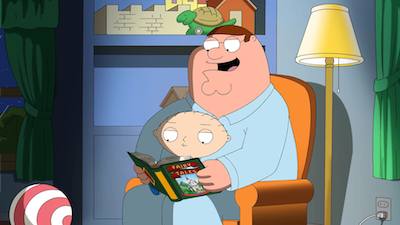 Classic fairytales with a Quahog spin.
When Brian's son, now a TV star, comes to town, Brian is more focused on landing a job on the…
After Peter's mother dies, he befriends her longtime pal, Evelyn (Lauren Bacall); Stewie is upset…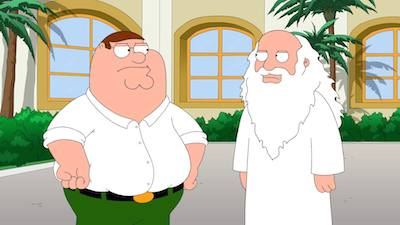 Peter and the guys go on a quest to ask God to stop interfering with the outcome of football games.
Chris becomes the heir to Carter's fortune but refuses to accept the money; Peter desperately tries…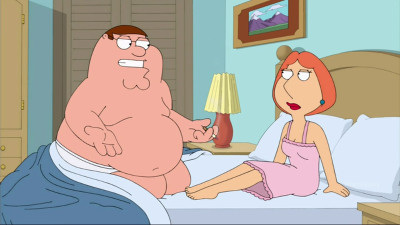 After Peter starts smoking, an advertising executive (Peter Dinklage) asks Peter to be the face of…
Brian gives Stewie an STD and the guys fight for a booth at the Clam
After some quality time with Stewie at the park, Peter accidentally takes the wrong baby home; to…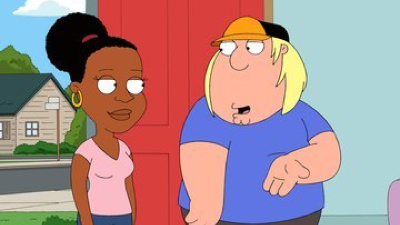 Chris and Jerome's daughter, Pam (Keke Palmer), run away together when Jerome (Kevin Michael…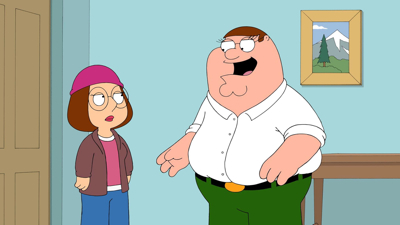 Peter brings Meg to college for an interview and introduces her to partying; Brian is prohibited…
Cleveland comes back to town but is forbidden to spend time with Peter when Donna and Lois get into…
Angry Stewie goes back in time to break up Peter and Lois but ends up in a British household.