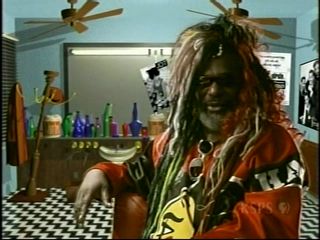 "One Nation Under a Groove," a profile of Parliament Funkadelic that features animation (including… Vieira de Mello, who devoted his life to global humanitarian efforts, was killed in Iraq in 2003. Vernon Sager is a cowboy struggling to survive in Porcupine, South Dakota, in this story of real… When one American family loses their son in the Iraq war, their lives -- and views -- are… Identical twins Margarita and Ramona de Saa became acclaimed ballerinas with the National Ballet of… How do American artists address our nation's most pressing social issue? Using spoken, sung and… As three of the thousands of Latina immigrants working as nannies and housekeepers in Los Angeles,… This film explores the plight of North Korean refugees trying to escape their homeland and China,… This documentary follows the lives of the women of St. Scholastica Monastery in Duluth, Minnesota.… They don't make "buddy movies" like this in Hollywood. Independent Lens presents five short films… With the help of God, guns and the hundreds of blood relatives that populate his jurisdiction,… Shot over four years, GIRL TROUBLE is the story of three girls entangled in San Francisco's… Credited with inspiring the Black Power movement, Robert Williams led his North Carolina hometown… In the summer of 1964, a three-night riot erupted in two predominantly black neighborhoods in… Shot on location in a nursing home, ALMOST HOME tells the real stories of aging: couples both… In 1978, Oakley Hall was a promising playwright on the verge of national recognition when a… A Girl Scout troop unites daughters with mothers convicted of serious crimes in a Texas prison. They faced death threats on the job -- from some of the men they worked with. With the story of Lt.… Native American activist and poet John Trudell fuses radical politics with music, writing and art. La Sierra, a small neighborhood in Medellin, Colombia, is ruled by a group of young men, mostly… Tracing the history of professional bowling in America, from its glory days in the 1950s to its… The intersection of art and life are at the core of this program, a musical journey featuring the… FISHBOWL: In the sleepy plantation town of Hilo, Hawaii, 11-year-old Lovey is trying to be anything… This program presents the future of human reproduction available today in Los Angeles. With… Two young Bolivian brothers brave deadly conditions in mining tunnels to earn money for school. Explores the fierce clash between an individual's right to privacy & concerns for national security. This is the epic tale of Farmer John, a maverick Midwestern farmer who -- in spite of the… This inspiring film follows five children as they fight cancer with the help of their families,… This inspiring film follows five children as they fight cancer with the help of their families,…