7.68

In Japanese known as "Danjon ni Deai o Motomeru no wa Machigetteiru Darou ka'' in short "DanMachi" and "Familia Myth" in English // Base from Japanese light novel series written by Fujino Oomori and illustrated by Suzuhito Yasuda. // Plot Story: with Commonly known as the "Dungeon," the city of Orario possesses a huge labyrinth in the underground. Its strange name attracts excitement, illusions of honor, and hopes of romance with a pretty girl. In this city of dreams and desires, new adventurer Bell Cranel has his fateful encounter with the tiny Goddess Hestia. Thus begins the story of a boy striving to become the best adventurer and a lonely goddess searching for followers both hoping to reach their goals and perhaps have some romance on the side.
Returning series


TV series created in 2015 by Fujino Ōmori.
The show consists of 2 seasons and 26 episodes.
After finishing his training with Aiz, Bell is attacked by a powerful minotaur but instead of…
A powerful monster appears in the 18th floor without warning, leading Bell and the other…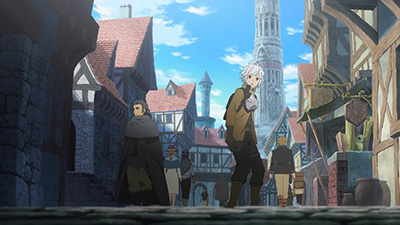 Bell Cranel has just started working as an adventurer blessed by the Goddess Hestia, when a…
Trailer
Seasons
Posters
Similar TV Shows