In a Japanese jail sits 17-year-old Jotaro Kujo: punk, fighter, delinquent...and possessed by a force beyond his control! Around the world, evil spirits are awakening: "Stands," monstrous invisible creatures which give their bearers incredible powers. To save his mother's life, Jotaro must tame his dark forces and travel around the world to Cairo, Egypt, where a hundred-year-old vampire thirsts for the blood of his family. But the road is long, and an army of evil Stand Users wait to kill JoJo and his friends...
Four years later in 1987, in Japan, a boy named Jotaro Kujo has willingly turned himself into jail,…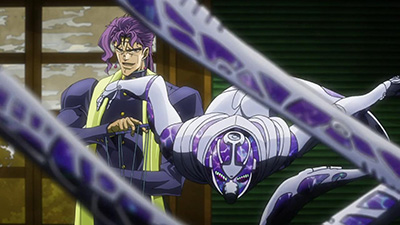 Jotaro heads out to school, but not after a goodbye kiss from his mother, to which he lets out an…
Joseph reveals that the object on Kakyoin's forehead is a "flesh bud" that has a tendril going…
Dio receives word from his advisor, an old woman, that their assassin is on the plane where the…
The swordsman, who introduces himself as Jean Pierre Polnareff, decides to take their fight outside…
Upon beginning their journey towards Singapore, which will take them three days by sea, the Joestar…
As Dio contemplates in his hideout over how he fears the Joestar bloodline, as he feels they cannot…
S02E08 : Devil
8.1/10

(aired on 05/24/2014)Wishing to keep Anne safe until she is due to meet with her father, the Joestar group check into a…
Jotaro and Anne believe something is wrong with Kakyoin after he uncharacteristically beats a…
The Joestar group arrives in Calcutta, India, and after an encounter with the local beggars the…
Kakyoin tries to convince Polnareff to retreat to safety until they can discover a way to beat the…
Sensing J. Geil's death through the connection in her bloodline, Enya prepares to take revenge on…
On their way driving to Pakistan, the group finds Anne hitchhiking at the side of the road and they…
After explaining Holly's situation to her, Joseph manages to convince Anne to return back to her…
Enya rushes to hide Hol Horse's corpse from Polnareff to avoid alerting the others, struggling to…
As the group stop by a kebab shop in Karachi, the store owner turns out to be Steely Dan,[i]…
As Jotaro continues to put up with Steely Dan's whims, Kakyoin and Polnareff's Stands arrive in…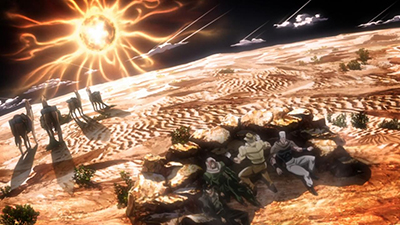 Upon arriving in the United Arab Emirates, Joseph purchases an expensive car, which he later trades…
Kakyoin has a dream where he is in a deserted amusement park, accompanied only by a dog. Suddenly,…
Kakyoin's suspicions are confirmed after he witnesses Mannish Boy skillfully killing a scorpion…
While on an island on the edge of the Red Sea where Mohammed Avdol's father is said to live,…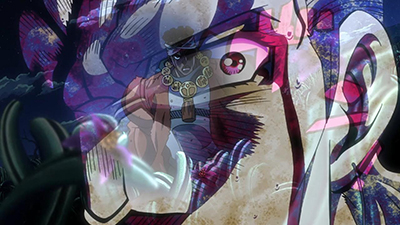 Polnareff must find out a way to escape the attacks of Cameo and his Stand Judgement who has…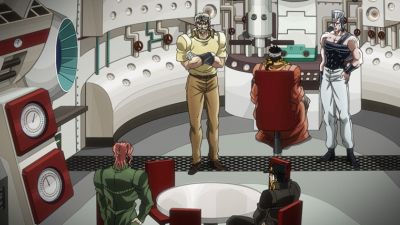 The group begins their underwater journey beneath the Red Sea via submarine. Along the way, Joseph…
The group must find a way off of the submarine and away from the attacks of High Priestess.
Jotaro's group meet up with a pair of representatives from the Speedwagon Foundation, who have…
Upon realizing that N'Doul is using his sense of hearing to track the group with his Stand, named…
As the Joestar group arrives in Aswan to get Kakyoin and Avdol into the hospital, the brothers…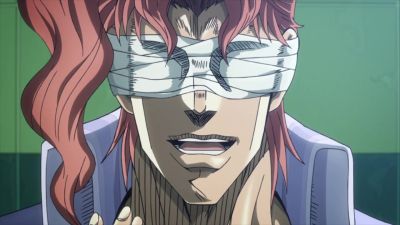 Polnareff battles the Stand Anubis, a sword that possesses its wielder Chaka and can never be…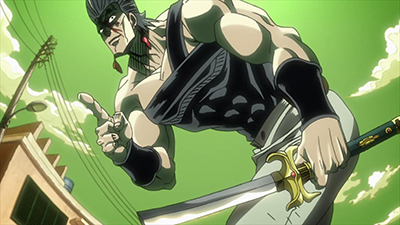 Realising the sword is the Anubis Stand itself, Polnareff tries to defend himself against from…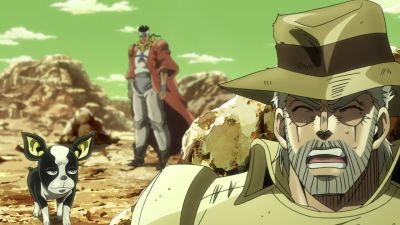 Jotaro and the others arrive in Luxor. While heading there, Joseph notices an electrical outlet in…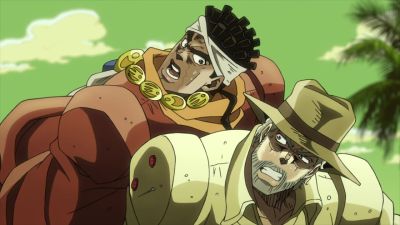 Due to the powers of an enemy Stand, Joseph's body becomes magnetised. While chasing after the…
While Joseph and Avdol were fighting with Mariah, Jotaro gets concerned that they haven't shown up…
Because of the power of Alessi's Stand, Set, Polnareff is turned back into a child. The one who…
After a long journey, Jotaro and the others finally reach Cairo. They go to a cafe and ask if…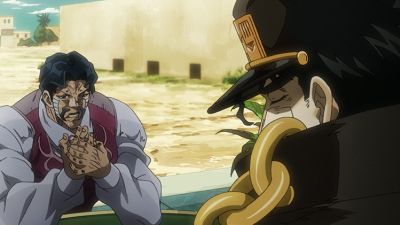 D'Arby prepares his and Jotaro's game of poker by splitting up Polnareff and Joseph's souls into…
Hol Horse arrives at Cairo in order to pursue Jotaro and the others. He has joined forces with…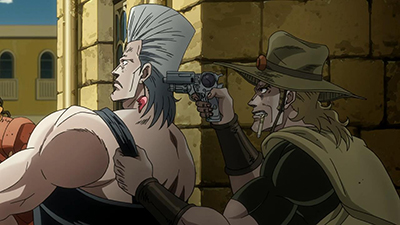 Hol Horse and Boingo followed Jotaro and the others to Cairo and as Boingo's book said, Hol Horse…
Jojo and the others continue to look for Dio's mansion in Cairo. Following Avdol's advice, they…
Iggy ends up in a battle to the death in the sewers against the falcon that guards Dio's mansion,…
Despite Iggy's injuries, Jojo and company finally make it to Dio's mansion. Once they entered, a…
The battle for souls with D'Arby continues. Kakyoin challenged D'Arby to a race game, but ends up…
The baseball match with D'Arby continues within Dio's mansion. For some reason, Jotaro starts…
After a long, hard journey, they are faced with a sudden goodbye of a friend. Because it's so…
Polnareff is pushed to his limits with Vanilla Ice's merciless attacks. He finally awaits death,…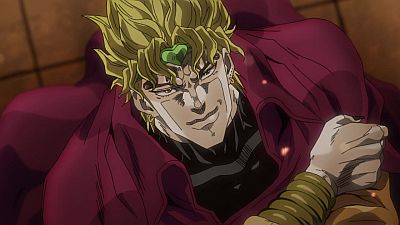 Polnareff finally comes face to face with Dio. Despite the hostility towards him, Dio tells him…
The battle is taking place in the city of Cairo at night. Joseph and Kakyoin are running from Dio…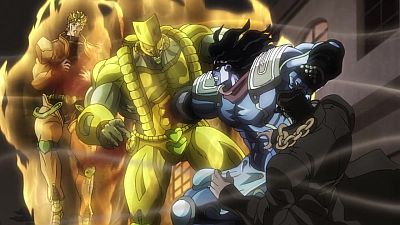 Joseph is able to figure out The World's power because of the message Kakyoin left, but is quickly…
Because of Polnareff's miraculous, life-risking trick, Jotaro is finally able to land a blow onto…