8.3

Lucifer is the charming, charismatic and handsome-as-hell original fallen angel, who, bored and unhappy in Hell, takes refuge in Los Angeles, where he uses his gift of persuasion to punish bad guys. But the longer he's away from the underworld, the greater the threat that the worst of humanity could escape.
Returning series


TV series created in 2016 by Tom Kapinos.
The show consists of 3 seasons and 44 episodes. A reporter seeks revenge after he discovers that Lucifer has been sleeping with his estranged wife.… When Lucifer discovers his ex-fake-wife, Candy, has gone missing, he hightails it to Las Vegas with… When a food chemist is found dead, Lucifer and Chloe's investigation pits them against an…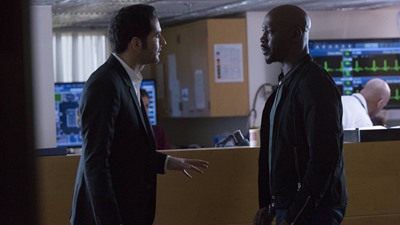 Lucifer must find the antidote to the Professor's poison before it kills Chloe. He travels to hell…
Guilty and self-destructive, Lucifer clashes with Chloe during an investigation, leading her to…
Trailer
Seasons
Posters
Similar TV Shows