A group of pirates lead by Alvida plunder a ship, only to find a barrel which contains a strange…
Luffy and Coby arrive at Shell Island, a Marine base. They meet the bounty hunter Roronoa Zoro,…
Luffy convinces Zoro to join his crew, but they must first defeat Captain Morgan. After freeing the…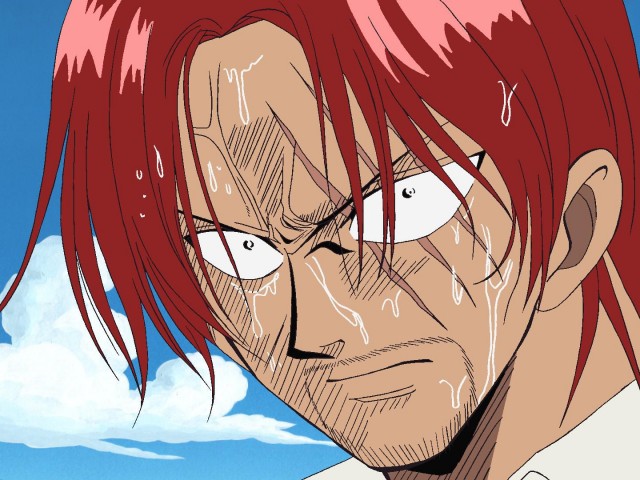 Out on the sea, Luffy almost loses his hat and reflects on his past, and how a pirate named Shanks…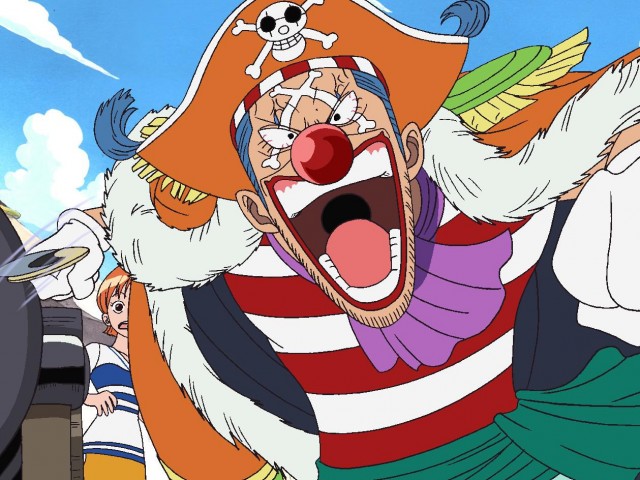 In order to save herself and steal a map to the Grand Line, Nami tricks Luffy into allowing her to…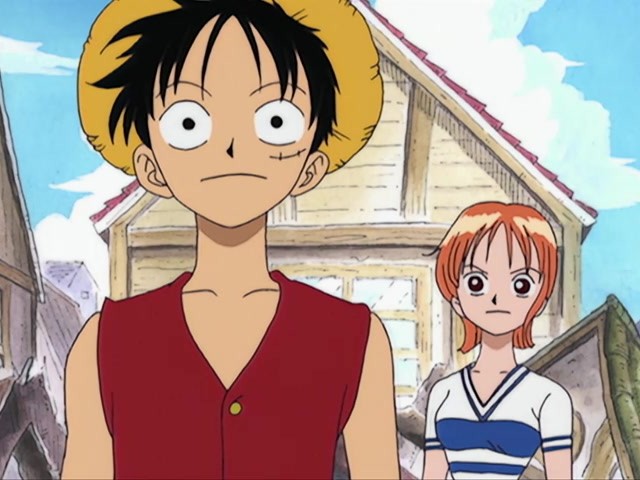 Mohji and Richie show up for revenge after Buggy's humiliating defeat in the previous episode, and…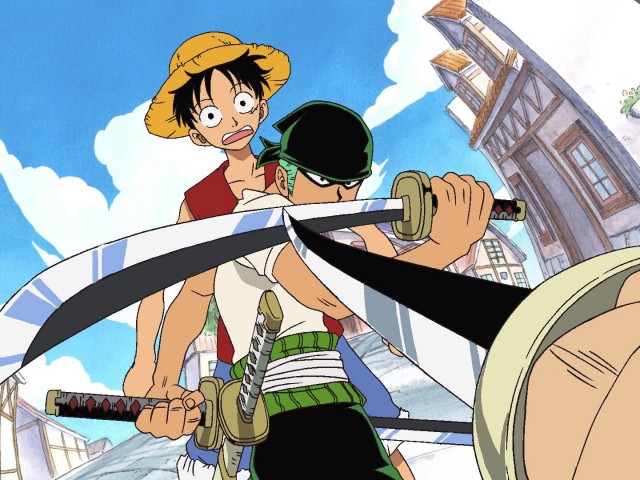 Enraged by the actions of Buggy's crew, the city's mayor rushes to fight Buggy himself, but the…
Buggy's link to Shanks is revealed, and when he rips the straw hat Shanks gave Luffy, his rage…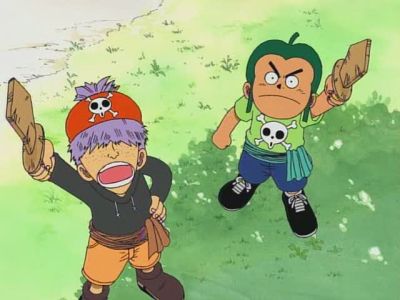 With Nami forming an alliance with the crew as their navigator (though not as an actual member),…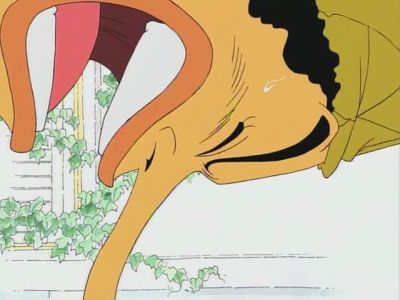 When trying to convince his rich friend, Kaya, to give the Straw Hats a ship, Usopp is told to stay…
After learning of Captain Kuro's evil plan, Usopp runs back to the village to warn Kaya, only to…
Usopp resolves to keep his story of pirates attacking the town a lie by making sure none reach it.…
The Straw Hats manage to take out most of the opposing Black Cat Pirates, so Jango orders the…
Captain Kuro himself arrives at the scene, and with Zoro too injured to fight, Luffy being…
Zoro and Buchi (of the Nyaban Brothers) face off once again as Luffy and Kuro begin their fight.…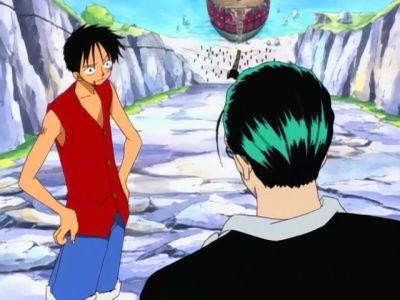 As the fight between Luffy and Kuro is close to an end, the Usopp Pirates do their best to avoid…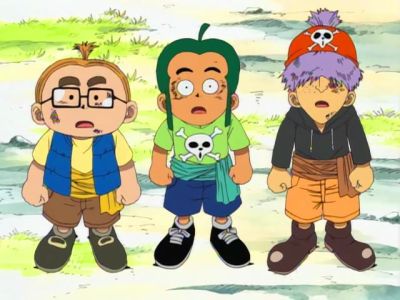 Kuro's ultimate attack, "Shakushi", attacks everything in the area, whether friend or foe, and…
With Usopp now in the crew and a new ship, the Going Merry, under their command, the Straw Hats…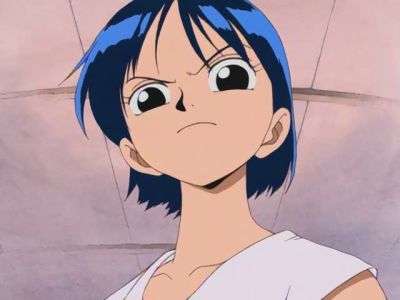 While Usopp & Luffy fool around with the ship's cannon one day, Zoro dreams about his childhood and…
The crew meets Johnny and Yosaku, Zoro's former companions, and they set sail for the Baratie…
Sanji, a cook at the Baratie, helps a starving pirate named Gin. Luffy begins his job as a waiter…
Gin returns to the Baratie with his also-starving captain, Don Krieg, to whom Sanji once more gives…
It is revealed that Chef Zeff was a great pirate known as Red Leg Zeff. Gin explains the…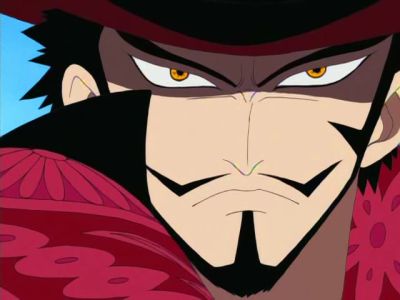 As Nami steals the Going Merry, Mihawk has returned to finish the job, but Zoro challenges him to a…
Mihawk leaves after defeating Zoro, so Krieg continues his invasion and has Pearl, one of his…
With Zeff held captive by Gin, Sanji has no choice but to take Pearl's hits, and he reflects on why…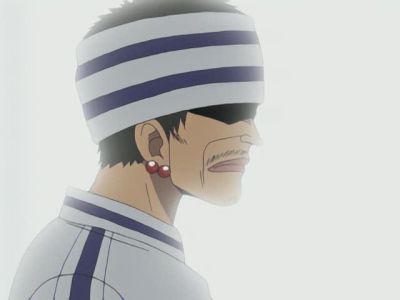 Gin finishes off Pearl, claiming that he wants to kill Sanji himself. Still wounded, Sanji faces…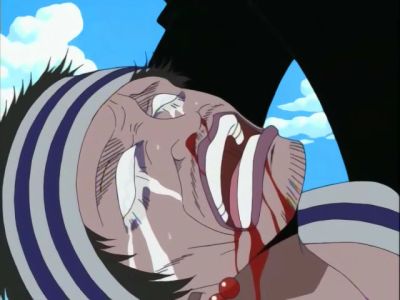 When Gin refuses to kill Sanji, Krieg uses a poison gas on him. Luffy seems to have the advantage…
Even after taking several hits from the Battle Spear, Luffy refuses to give up.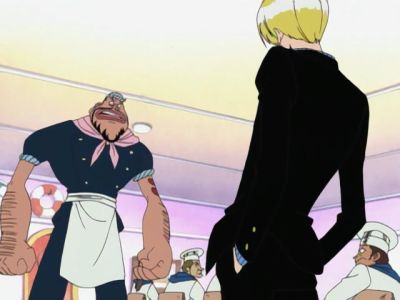 After the battle, Gin decides to go back to the Grand Line with Krieg despite still being poisoned,…
The crew chases after Nami, who stole their ship, and Yosaku takes time during the trip to explain…
Zoro is captured by the fishmen after Usopp and Johnny ditch him, and it's revealed that Nami was…
After Zoro escapes with Nami's help, she tries to prove her loyalty to the Arlong Pirates by…
Johnny tells the others about Nami killing Usopp, and Luffy doesn't believe them until Nami appears…
Nojiko starts her story about Nami's childhood and their adopted mother, Bellemere. Despite being…
Nojiko continues her story, explaining how their life was ruined when the Arlong Pirates first took…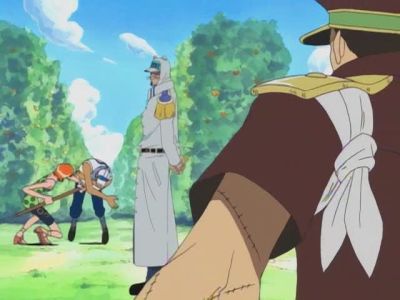 When a marine officer under Arlong's pay confiscates all the money Nami stole over the years, in…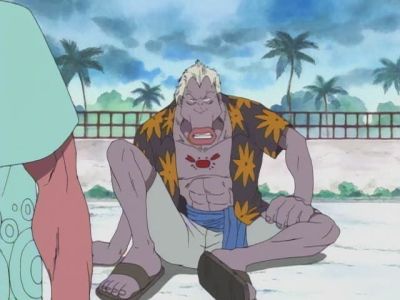 The Straw Hats face the Fishmen themselves as the villagers watch from the sidelines.
Arlong has trapped Luffy in the ocean and Zoro faces the six-sword wielding octopus Hatchan.
With Hatchan defeated, two of the fishmen battle Sanji and Usopp. Things look grim for Sanji as he…
Arlong's officers have been defeated, but Sanji and Zoro prove to be no match for Arlong in their…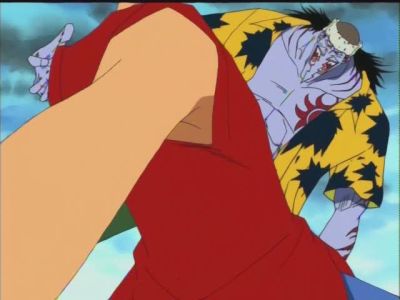 Luffy returns to the fight, and the battle with Arlong versus Luffy begins.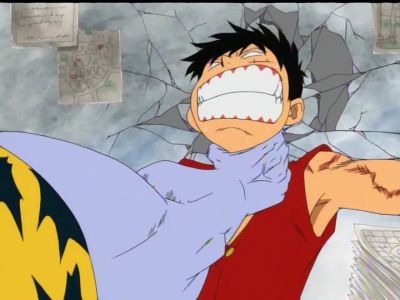 The battle spreads into Arlong Park itself and Arlong is no longer holding back.
Arlong's reign of terror is over, and no one has anything on their mind except to party. As the…
As a result of defeating Arlong, Luffy now has the highest bounty in East Blue. News quickly…
After his fight with Luffy, Buggy was sent flying to another island with several body parts…
With Buggy assumed to be dead, his crew fights over who will be the new captain, only to be…
The crew arrives at the last large town before the entrance to the Grand Line--Loguetown, the place…
While searching for new swords to replace the ones shattered by Mihawk, Zoro meets a woman named…
(filler) Usopp manages to anger the daughter of bounty hunter Daddy the Father, and finds his own…
(filler) In order to win a rare fish, Sanji enters a cooking contest and faces a woman named Carmen.
Luffy arrives at the execution platform only to be caught in a trap by Buggy and Alvida.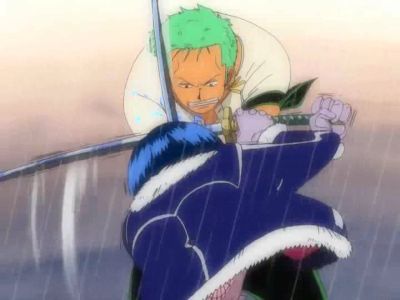 Miraculously saved from death by an unnatural green fog and a lightning bolt to Buggy, the Straw…
On a stormy night a girl called Apis escapes from the Marines and arrives at Straw hat's ship, but…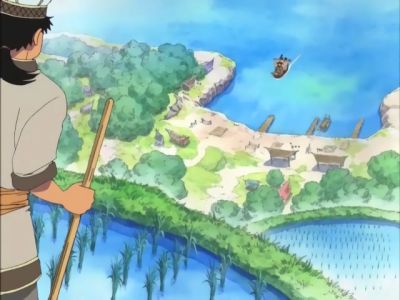 The Calm Belt is revealed to have no winds or currents as well as being the home of many giant sea…
Now that the crew is informed about the reasons for which Apis was followed, they hurry to escape…
After arriving to what might seemed as the Lost Island the Straw hats where looking for, they find…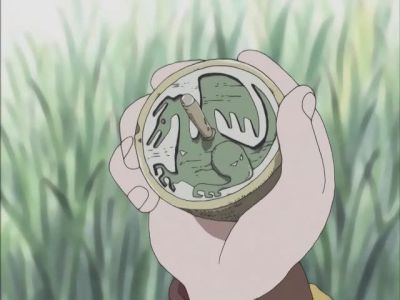 Zoro is left fighting with Erik while Luffy and the gang run to the ship in order to get to Lost…
At last Admiral Nelson has seen through the ambitions of Erik, but takes it a little too personally…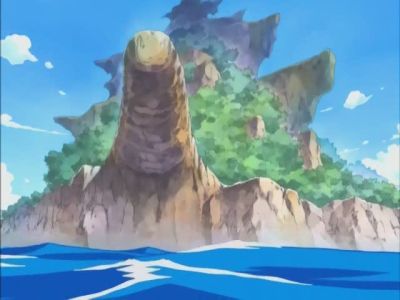 With his last breath, Ryuuji calls all his fellow dragons, and the Lost Island re-surfaced.…
After leaving Battleship Island the Going Merry is now towards the Grand Line, and the crew now…