Upon entering the Grand Line, the ship is swallowed by a giant whale, inside of which they discover…
Luffy and the others hear the story behind Laboon and his nakama.
As the Straw Hat Pirates travel from Reverse Mountain to Whiskey Peak, Nami has to adjust to the…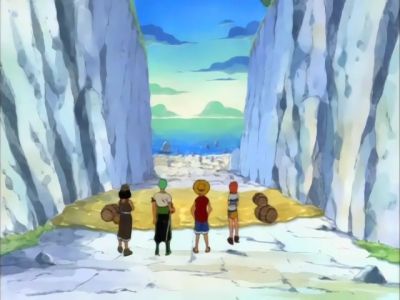 While Nami searches the town for the bounty hunters' treasures, Zoro lets loose on the bounty…
Mr. 5 and Miss Valentine follow after Vivi, who attempts to flee the island. Igaram, no longer in…
Out of imminent danger, Vivi explains that Baroque Works is responsible for inciting a rebellion in…
Coby and Helmeppo have enlisted into the navy and Coby works hard towards his goal of becoming an…
Coby and Helmeppo settle in at Marine headquarters, while Garp makes sure that they are not…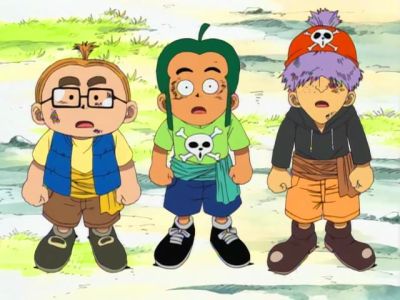 As the Straw Hat Pirates sail toward Little Garden, the Baroque Works agents Mr. 3 and his partner…
Nami and Usopp meet Broggy, the strongest warrior of Elbaf. Elsewhere, Luffy and Vivi meet Dorry,…
Usopp, who is immensely impressed with the giants' fight, decides to strive to be like them and…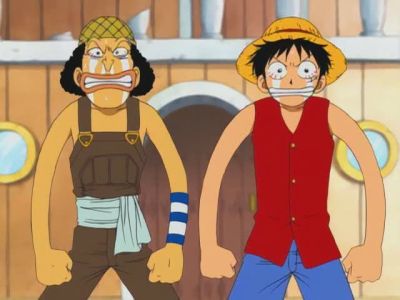 Mr. 3 captures Nami and Zoro while Mr. 5 and Ms. Valentine go after Vivi and Usopp.
Mr. 3 creates a large, cake-shaped pedestal to turn Vivi, Nami, and Zoro into wax figures. Karoo,…
While Usopp and Karoo try to out run Mr. 5 and Miss Valentine, Luffy tries to destroy the wax…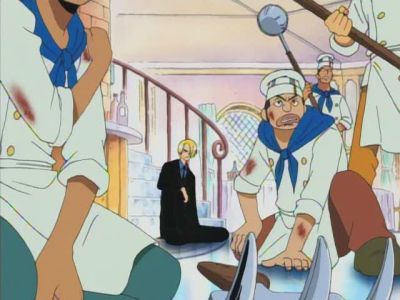 While Mr. 3, in a in a waxen battle suit, fights Luffy, Usopp and Karoo attempt to bring down the…
As the Straw Hats ride down Reverse Mountain into the Grand Line, a huge whale appears in front of…
While guiding them out of the giant whale Laboon, its caretaker, Crocus, tells the whale's story to…
The weather changes rapidly on the first leg of their journey, from Reverse Mountain to Whiskey…
Nami who faked falling asleep as well, searches the town for the bounty hunters' treasures.…
Mr. 5 and Miss Valentine follow after Vivi, who attempts to flee the island. Igaram, no longer able…
Luffy and Zoro are about to go all out, when Nami arrives and violently ends their duel. Out of…
Coby and Helmeppo have enlisted into the navy as oddjobbers. Coby works hard towards his goal of…
Coby and Helmeppo settle in at headquarters, where Garp makes sure that they are not slacking off.…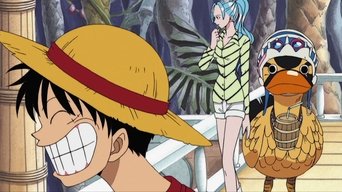 As the Straw Hats sail toward Little Garden, the Baroque Works officer agents Mr. 3 and his partner…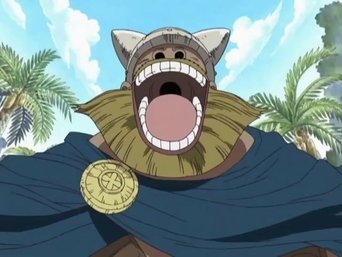 The giant introduces himself as Broggy, claiming to be the strongest warrior of Elbaf, and asks…
Usopp, who is immensely impressed with the giants' fight, decides to strive to be like them and…
Before he leaves to face his rival and friend for a last time, Dorry traps Luffy under a huge rock.…
After explosively beating down on the still trapped Luffy, Mr. 5 and his partner take Vivi to the…
Mr. 3 is unsettled, that Zoro and Nami seem to be completely carefree since Luffy's arrival. Usopp…
Once back at the pedestal, Usopp finds Luffy drinking tea with Miss Golden Week, while their…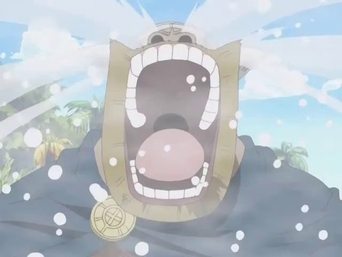 Once Sanji realizes that he is talking to Crocodile, he pretends being Mr. 3 and convinces the…