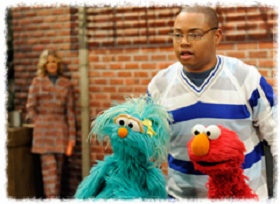 Elmo is taking pictures of his friends when they hear someone say something. It's Camouflage Carla!…
Elmo, Rosita and Telly learn about the scientific process while investigating everyone's bathing…
Elmo, Abby and Leela help their chicken T-ball teammates overcome their fear of thunderstorms.
While waiting for his Super Grover cape to be cleaned at the coin laundry, Grover becomes a…
Elmo is sleeping over at Maria and Luis' apartment. When Elmo tries to sleep, he hears a strange…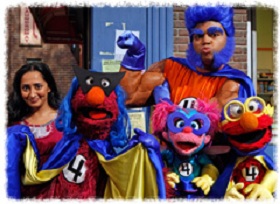 Telly, Abby and Elmo want to pretend to be the superheros in "The Furry Four," Telly's favorite…
It's a very windy day on Sesame Street. Elmo and Telly are just about to play a game of basketball.…
Elmo makes everyone on Sesame Street sing---with a wave of Abby's magic wand.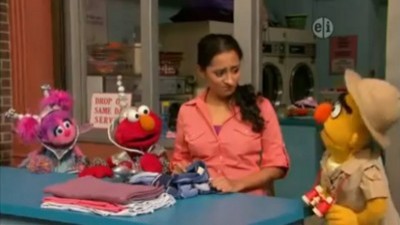 Elmo and Abby help Bert find a type of pigeon that he's never seen. Along the way, they spot a…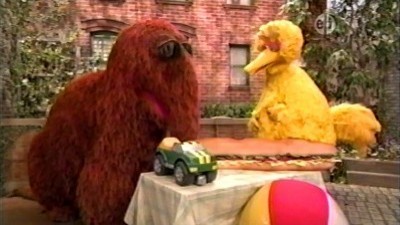 Big Bird and Snuffy learn about gravity from Gordon, but wonder what life would be like without it.…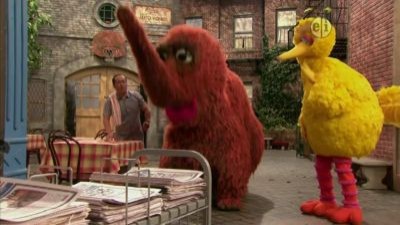 Snuffy can't stop sneezing after meeting up with Big Bird, who's fresh from a dust bath. Gina…
Teddy trades his old pogo stick for a brand-new iPogo, which the salesman promises will enable him…
Abby, Elmo and Telly join the A Team, which solves people's problems by using words that begin with…
Elmo, Telly and Rosita search for Itsy Bitsy Spider in order to sing "Itsy Bitsy Spider" to her.…
Elmo and Telly build the letter I with their "Letter of the Day" kit, but Iggy the dog---who was…
Leela, who's been making bracelets to celebrate the Indian holiday Rakhi, waits for a special…
On a rainy day, Elmo waits for puddles to form so that he can splash in them. He pretends to shower…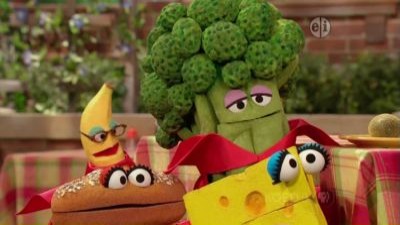 The Super Food Super Heroes come to the aid of Super Grover and Elmo, who are unsure of what a kiwi…
Twins are celebrated with their own special day. Chris introduces his twin sister Christy; Abby and…
Vegetables protest Telly's lettuce-free tuna sandwich, Zoe's leftover broccoli and Cookie Monster's…
Fairy-tale characters solve problems with science. Cinderella learns whether a pumpkin can float;…
Elmo and Abby help Vergil Von Vivaldi (Michael McKean) put together a rock band consisting entirely…
Zoe asks Elmo to watch her pet rock Rocco for her, but he's too busy playing with Baby David to…
Oscar and two other grouches set out to dirty the clean neighborhood, but their attempts backfire.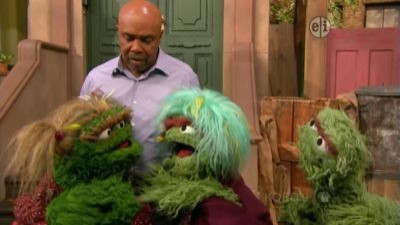 Oscar tries to give his mom the worst Grouchy Mother's Day ever, but he has keen competition from…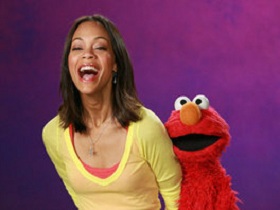 Abby uses magic to dress Leela and Chris for a party.
Texas Telly and Chris follow clues around Sesame Street to find the Golden Triangle of Destiny.
Telly makes a shoe wish so the Shoe Fairy will come and give him his first pair of shoes.
Abby uses her new "two trick," which turns one thing into two things, on Chris's orphaned sock.
Baby Bear and Telly catch a firefly, realize that it is sad to be trapped in a jar, and let it go.
Everyone tries to figure out the secrets to Max the Magician's tricks, only to discover that…
It's Who Can Wear the Most Hats on Their Head Day, and Elmo and Zoe are competing. But it seems…
Elmo, Zoe, and Rosita make a block house but can't agree whether to put a square or circle on top.
Baby Bear is worried that Curly Bear is going to wreck his chocolate-porridge birthday cake.
A day devoted entirely to the number 6.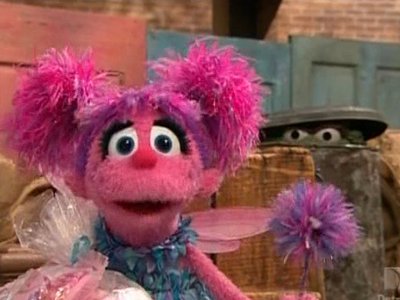 After hearing a story about a frog who is a prince, Abby thinks that Oscar is an enchanted prince.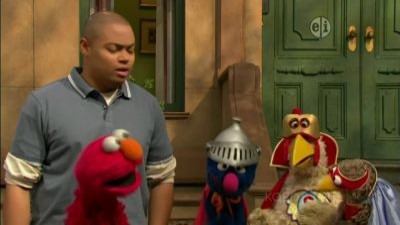 Super Chicken and her sidekick, Robin, fly in to help Elmo. Horatio becomes Super Grover's sidekick.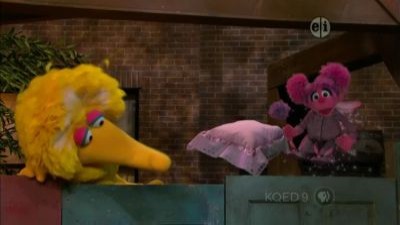 Abby goes to Big Bird's nest for her very first sleepover, and Maria reads her "Hey, Diddle,…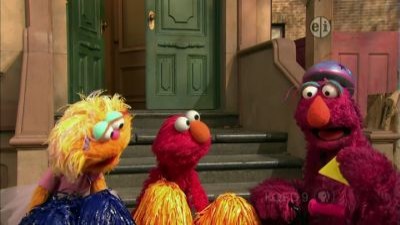 Elmo tries to bounce his ball three times, and Zoe the cheerleader cheers him on.
Elmo wants to be like Gordon, so he spends a day looking and acting just like him.
Brian Williams breaks in with an important news update: No one is sharing!
Chris gives Cookie Monster the last cookie in Hooper's store and tells him that there will be more…
Chris reads Elmo, Telly, and Rosita the story of "Rico, the Very Helpful Robot." After hearing it,…
Telly gets ready for the Triangle Lovers' Annual Triangle Toss and wears his lucky triangle vest.