8.6

Betrayed by the Romans. Forced into slavery. Reborn as a Gladiator. The classic tale of the Republic's most infamous rebel comes alive in the graphic and visceral new series, Spartacus: Blood and Sand. Torn from his homeland and the woman he loves, Spartacus is condemned to the brutal world of the arena where blood and death are primetime entertainment. But not all battles are fought upon the sands. Treachery, corruption, and the allure of sensual pleasures will constantly test Spartacus. To survive, he must become more than a man. More than a gladiator. He must become a legend.
Ended


TV series created in 2010 and concluded in 2013 by Steven S. DeKnight.
The show consists of 3 seasons and 33 episodes.
Spartacus and his outnumbered rebels make one last attempt to win freedom in a final battle against…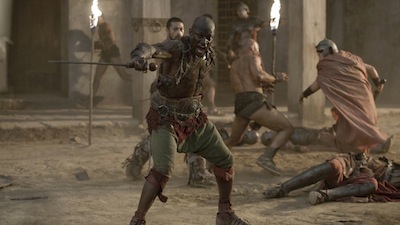 In the season finale, Spartacus enlists the help of an accomplice in order to get his revenge.
When a shortage in supplies has the rebellion about to fail, Spartacus tries his best to give his…
Trailer
Seasons
Posters
Similar TV Shows