8.5

The story revolves around two brothers, Sam and Dean Winchester as they follow their father's footsteps, hunting down evil supernatural creatures such as monsters, demons, and even fallen gods while trying to save innocent people along the way. Continuing the "family business" after their father's death, the brothers soon discovered that the "hunt" doesn't just involve slashing and hacking monsters and demons but also dealing with more powerful creatures such as angels, reapers, and even Death.
Returning series


TV series created in 2005 by Eric Kripke.
The show consists of 14 seasons and 307 episodes.
Sam, Dean and Castiel are thrown into an epic battle. Meanwhile, Jack becomes disenchanted with all…
Sam, Dean and Castiel investigate a string of suspicious deaths that have a biblical element to…
Sam and Dean continue to worry about the condition of Jack's soul.
The showdown between good and evil is at hand. With the Apocalypse looming, Sam and Dean realize…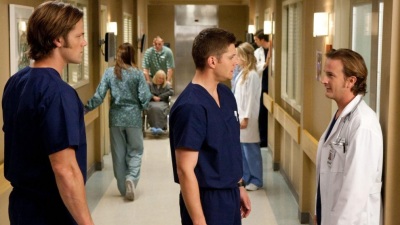 When Sam and Dean find themselves living their lives on what appear to be TV shows, it makes for a…
Dean and Sam find themselves in an alternate reality where everyone believes they are two actors…
Trailer
Seasons
Posters
Similar TV Shows