The tenth season of the animated television series The Simpsons was originally broadcast on the Fox network in the United States between August 23, 1998 and May 16, 1999. It contains twenty-three episodes, starting with "Lard of the Dance". The Simpsons is a satire of a middle class American lifestyle epitomized by its family of the same name, which consists of Homer, Marge, Bart, Lisa and Maggie. Set in the fictional city of Springfield, the show lampoons American culture, society, television, and many aspects of the human condition. The showrunner for the tenth season was Mike Scully. Before production began, a salary dispute between the main cast members of The Simpsons and Fox arose. However, it was soon settled and the actors' salaries were raised to $125,000 per episode. In addition to the large Simpsons cast, many guest stars appeared in season ten, including Phil Hartman in his last appearance before his death. The season, which won the Annie Award for "Outstanding Achievement in an Animated Television Program", has been cited by several critics as the beginning of the series' decline in quality. It ranked twenty-fifth in the season ratings with an average of 13.5 million viewers per episode. The tenth season DVD boxset was released in the United States and Canada on August 7, 2007. It is available in two different packagings, both featuring Bart.
Homer and Bart try to make money by selling used grease. Meanwhile, Lisa organizes a school dance…
A midlife crisis prompts Homer to quit his job and become an inventor.
Under Nelson's bad influence, Bart shoots a bird with a BB gun. Stricken with remorse, he tries to…
In "Hell Toupée," Snake is sent to the electric chair, and his hair is transplanted onto Homer. In…
After a chance encounter with Hollywood celebrities secretly living in Springfield, Homer becomes…
In a quest to learn Homer's middle name, Homer and Grandpa travel to his mother's old commune,…
Stuck at home with a cold, Lisa gets addicted to a video game and neglects her homework. Her A+++…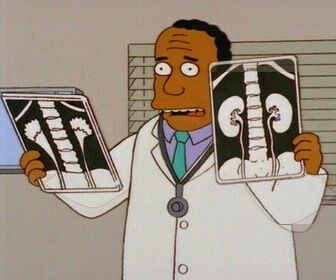 When Grandpa needs a new kidney, Homer agrees to donate one, but then chickens out.
After a riot at a sci-fi convention, Mayor Quimby hires Homer as his bodyguard, and Homer witnesses…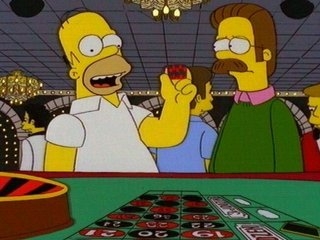 When clean-living Ned Flanders wants to experience a new side of life, Homer takes him to Las…
Scapegoated for the vandalism of drunken Isotopes fans, the children of Springfield wage war on the…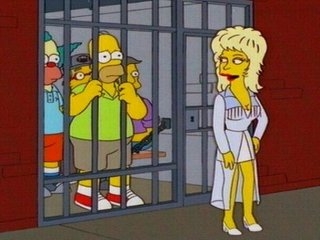 Homer and his friends charter a bus to the Super Bowl, only to find that their tickets are fake.…
A new TV series features a suave and debonair character named Homer Simpson. Homer capitalizes on…
Apu is making the husbands of Springfield look bad with his extravagent Valentine's Day efforts for…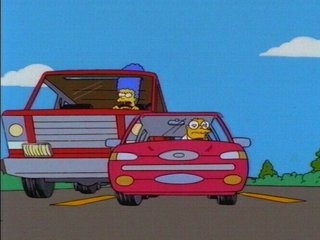 A new Canyonero SUV turns timid Marge into an aggressive driver, and her road rage lands her in…
Indebted from a mishap at the Smithsonian, Homer lets a cell phone company put a transmitter in the…
After beating Homer in a steak-eating competition, a trucker dies; Homer and Bart take over his rig…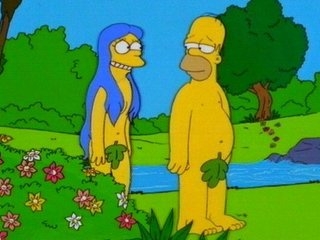 When Reverend Lovejoy subjects the congregation to an extended Bible reading, the Simpsons fall…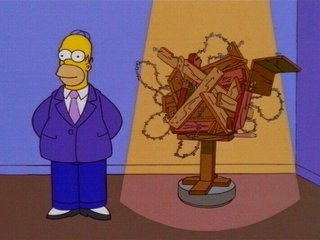 Homer's failed do-it-yourself project gets mistaken for "outsider art." Suddenly in the limelight,…
When Bart ruins Springfield's chance to host the Olympics, the kids are sentenced to community…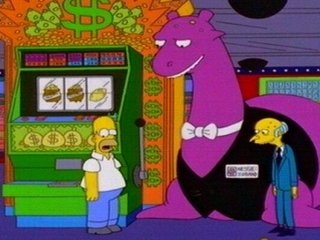 A new mogul wins the hearts of the townspeople with a shower of cash. Jealous, Mr. Burns asks Homer…
Mayor Quimby flees Springfield, leaving the town chapter of Mensa in charge. As the group's new…
After their bank account is drained at a cyber-cafe, the Simpsons go on a disastrous low-budget…