The Simpsons' twenty-fifth season began airing on Fox on September 29, 2013. In this season, Homer sells his Mapple stock to buy a bowling ball, Marge blames herself and KISS for Bart's rebellious streak, Lisa becomes a cheerleader for Springfield's football team, and Homer delivers a baby. Guest stars for this season will include Christiane Amanpour, Will Arnett, Stan Lee, Rachel Maddow, Elisabeth Moss, Joe Namath, Gordon Ramsay, Aaron Sorkin, Eva Longoria, Daniel Radcliffe, Kristen Wiig, Billy West, Katey Sagal, John DiMaggio, Phil LaMarr, Zach Galifianakis, Harlan Ellison, Anderson Cooper, Maurice LaMarche, and Judd Apatow. This is Al Jean's 13th consecutive season as showrunner and 15th overall. Matt Groening, James L. Brooks, Matt Selman, and John Frink serve as executive producers.
A parody of "Homeland". Homer starts to act strangely polite after returning from a nuclear power…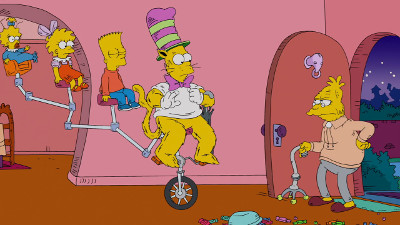 In "Oh The Places You'll D'oh," the first of three spine-tingling stories, Homer rides around…
Kent Brockman has decided that local news has been a real mistake and a terrible career move for…
S25E04 : YOLO
6.54/10

(aired on 11/10/2013)Marge encourages Homer to cross an item off an old to-do list by inviting an old pen pal to visit;…
Homer delivers a baby in an elevator. When the mother names the child Homer Jr., he develops a deep…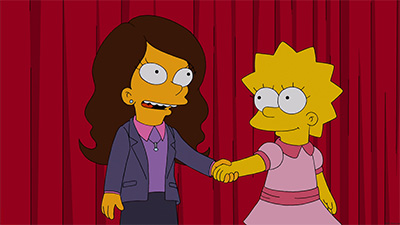 Lisa finally makes a new best friend, Isabel Gutierrez, only to discover that she's a Republican…
Principal Skinner promises the students that the best-behaved among them can take a ride in a…
Springfield is inundated with holiday revelers after the nuclear power plant springs a radiation…
Homer becomes annoyed with movie theaters, so Bart teaches him how to download movies illegally.…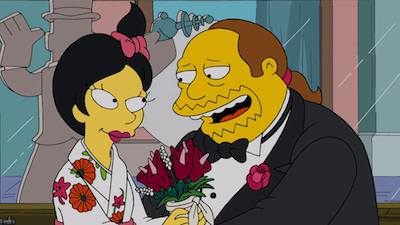 Comic Book Guy realizes his comics are nothing if he can't share them with anyone. Then he meets…
Mr. Burns gives high-tech eyeglasses to all of his employees in order to spy on them. Homer loves…
S25E12 : Diggs
6.3/10

(aired on 03/09/2014)Bart encounters Diggs, a strange older boy with a passion for falconry, among other things.
On a research trip, Lisa is shocked to discover that Sideshow Bob is now the chief scientist at a…
When the retirement home closes, Marge invites Grampa and two other elderly folks to stay at the…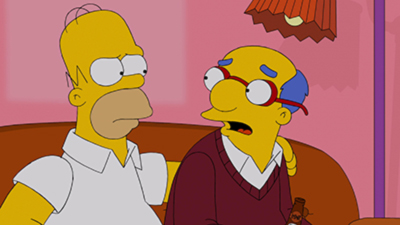 After Lisa's new pet guinea pig destroys the Simpsons' living room art, Marge falls in love with a…
The Simpsons go to South America to watch the 2014 FIFA World Cup. Homer becomes a referee and runs…
S25E17 : Luca$
6.43/10

(aired on 04/06/2014)Lisa dates a boy named Luca$ Bortner, who wants to be a competitive eater. Marge becomes concerned…
Set in the future, Homer has a new clone for every time he dies. Lisa is married to a zombie…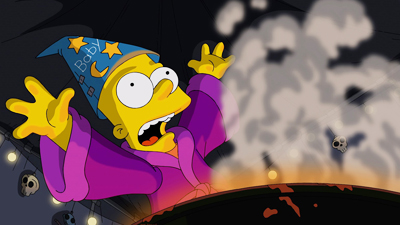 When Bart develops powers that help Springfield couples conceive, the mafia kidnaps Homer and Bart…
Homer wakes up in a world where his family and everyone in Springfield are made of Lego, and he…
Marge swears off befriending any more couples when Homer offends their charming new British…
Bart is plagued with guilt when he wins the annual "last day of school" race around Springfield…