Top Chef: Texas is the ninth season of American reality television series Top Chef and was filmed in various cities in Texas, including San Antonio, Dallas, and Austin, before moving on to British Columbia for the finale. The season premiered on Bravo on November 2, 2011 and concluded on February 29, 2012. The reunion episode for this season aired on March 7, 2012. This season of Top Chef features a much larger number of contestants than any previous season; 29 chefs began the competition. The prize money awarded to the Top Chef was $125,000. This season also introduced a new competition to the series; in addition to the Quickfire and Elimination Challenges featured in televised episodes, the "Last Chance Kitchen" competition allowed eliminated contestants to compete head-to-head in a series of webisodes, with the winner eventually returning to the main competition. The webisodes are available on Bravo's website.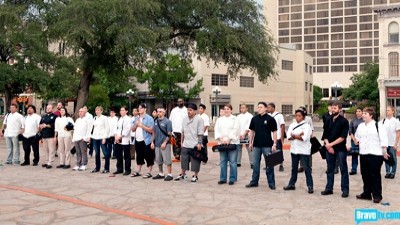 29 chefs gather at the Alamo in San Antonio, Texas, to compete for 16 slots in the 9th season of…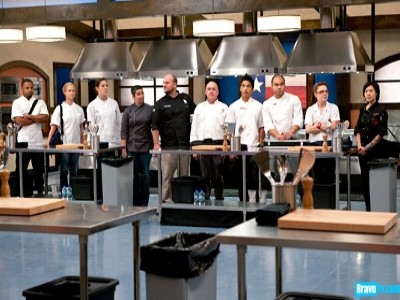 Night two of heats for the coveted contestant spots starts with 10 competitors, 10 ingredients, and…
In a Quickfire with bite, the chef-testants must whip up a savory meal using rattlesnakes in the…
The heat is on when the chef-testants use hot peppers to create a spicy dish. Later, they visit a…
The culinarians cook a meal using ingredients found inside a basic survival kit. Then, they visit…
The chefs get saucy when creating a dish using a distinct sauce. Later, they sizzle and try not to…
The chefs cook up a dish that can nicely accompany tequila. Then, in a hunting-based test, they… The chefs must adapt quickly when their cooking mashes up with social networking and they begin… The chefs are charged with creating innovative fare that will impress precise palates. Later, the… The still-standing chefs sharpen their knives for the time-honored fan-favorite "Restaurant Wars"… The chefs try not to go off the rails when they use various ingredients delivered to them by a… The chefs race against time to finish prep work for a meal. Later, they serve up cuisine at a… The chefs are charged with creating imaginative pancakes for Pee-wee Herman. Later, they hit the… The blindfolded chefs must use senses other than sight to gather ingredients for a dish. In a… The remaining four chefs arrive in British Columbia and wage culinary battle in Olympic-theme… A tag-team battle includes culinary support from Asian masters. Later, a fire-and-ice theme… Season 9 comes to a close with the final chefs commandeering a Vancouver restaurant, where they… A reunion edition featuring the Season 9 chefs.