 U.S. intelligence agencies tell the president-elect Russia was behind election-related cyberattacks. President-elect Trump's praise of Putin has cast a cloud over his transition. Donald Trump was sworn in as the 45th president, laying out a dark vision for America. What does Trump's first week in office say about his leadership style and America's place on the…
The panel reports on the new world order of the Trump administration and the influencers jockeying…
The 9th Circuit rejects Trump bid to reinstate travel ban.
The president held his first solo news conference.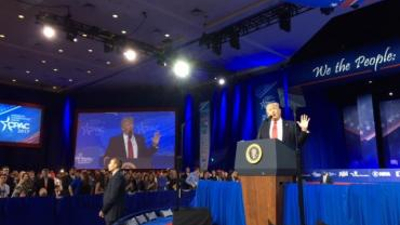 President Trump riled up conservative voters in a fiery speech at CPAC Friday where he took on his…
Sessions recuses himself from investigations into Russia's meddling in the election. House Republicans unveiled their long-promised plan to replace the Affordable Care Act, but the… Trump doubles down on claims Obama wiretapped Trump Tower despite no evidence found by Congress. Republicans cancel planned vote on health care after failing to get the votes to pass it. Former National Security Adviser Michael Flynn is willing to testify about the Trump campaign's… The U.S. military fired 69 cruise missiles at targets in Syria. President Trump changes his tune on Russia, China and NATO. President Trump is nearing the 100-day mark of his presidency and Congress is set to return from a… President Trump is reaching the end of his first 100 days in office. The president is learning on… This was the week Congress got busy. Republicans in the House performed life-saving measures to… Two words that have been central to President Trump's persona for more than a decade sent… Donald Trump is facing the harsh reality of being president just 118 days into his administration. … The federal investigation into Russian meddling in the U.S. presidential election reached President… resident Trump announced that the U.S. would withdraw from the Paris climate accord, the historic… Fired FBI Director James Comey accused President Trump of telling "lies, plain and simple" during… Every once in a while, one moment makes Washington pause. Partisanship melts away, if only for… After weeks of behind-the-scenes discussions, Senate Republicans unveiled their plan to repeal and… As Senate Majority Leader Mitch McConnell struggles to find 50 Republican 'yes' votes for health… President Trump met with Russian President Vladimir Putin during the G20 Summit in Germany. Trump… President Trump's son Donald Trump Jr. released emails detailing a June 2016 meeting with a Russian… Staff shakeups hit the White House Friday. Press secretary Sean Spicer resigned, and Anthony…