After an unexpected visit from their dark lord and leader, Baron Afanas, the vampires are reminded of what they were initially tasked with upon their arrival in Staten Island over a hundred years ago – total and complete domination of the New World. But what exactly is the best way to go about achieving said domination? Our vérité camera crew follows along as the vampires set out to answer this query.
The vampires try to plan a lavish bloodfeast in honor of a visit by their ancient master from the…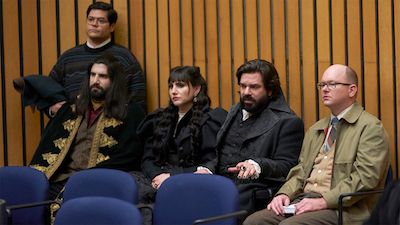 The vampires get embroiled in local Staten Island politics as their first step to world domination.
The fragile truce between the vampires and Staten Island's werewolves is tested, and Colin Robinson… The vampires venture into Manhattan, to make an alliance with an old friend who is now the king of… Lazslo, in bat form, is captured by Staten Island Animal Control and must be rescued, while Nadja… The Baron awakens from his slumber and demands to experience the wonders of the New World in a…